Topic: Aaron X Opensurge Rev. 5 Snapshot
Aaron X Open Surge Rev. 4 Download link
https://www.dropbox.com/s/b09d5qq5me5rx … s.zip?dl=0
Aaron X Opensurge Rev. 5 Snapshot Link
https://drive.google.com/folderview?id= … sp=sharing
Note (!):
Due to the recent setback that postponed me to releasing a snapshot this month, I am still working on it with some (little) success, and possibly I may not release a new one until a later date.
Operation on the game will continue once again after I had been set back.
New improvements
*Somewhat Updated graphics
*Added Boost Gauge, Does nothing at the moment.
*Added more Dialogue text, and as an object, not the level text.
*Custom_Level_Clear object edited to handle an Act 4, this still needs to be done with the regular startups.
*Some changes made to Aaron, but he still pretty much is the same, I am working on a new boss for him.
*Some edits to levels.
*More bugs fixed, found bug in the Aaron The SS Character Script, I have added it to the recent update.
Future Updates...
-Change all of the objects to custom made ones.
-Update the game to latest engine.
-LVL's will now be called Episodes. (Dropped)
-All Level's will be renamed. (Certain ones.)
-Will add new music.
-Music will be either custom-made or from other sources (e.g Opengameart etc.)
-Create new levels.
-Fix Folders and destinations.
-Fix Folders and add/remove the levels from the Level select.
-Create new zip, and post the new update, also make sure that i update it every now and then.
Known Bugs:
- Level_Cleared Fixed, should be in the new update.
- When fighting Aaron, he cannot use objects, so he needs to stay on some sort of ground, But the level should now have a platform for him to run on. But he can teleport outside the platform...
- Surge or Aaron hardly stick to slopes anymore, I cannot find the reason.
- Some objects slightly clash with each other, this should be fixed now.
- The "Rocket Blast" ability needs to be fixed as it doesn't deactivate correctly.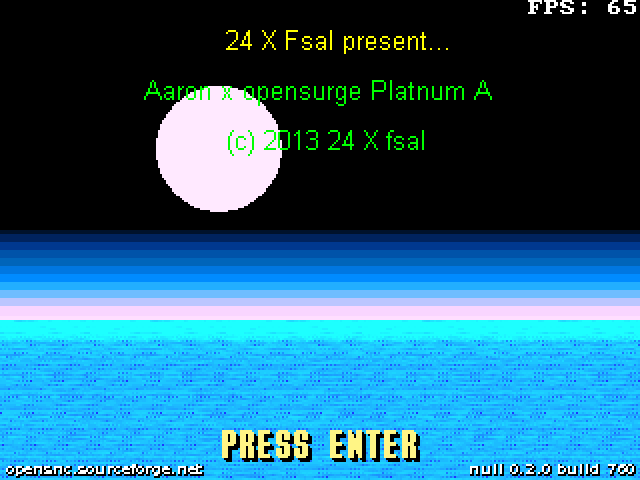 Here Are some Screenshots
Last edited by aronthehedgehog (2016-09-10 19:42:25)
www.facebook.com/24XFSAL
Hasn't been updated anytime recently, don't bother.
I'm on SoundCloud:
https://soundcloud.com/rain-new-holy
- I plan to upload one soon.
Name change from 24XFSAL coming soon. Currently studying for Information Technology and Game development. (Also studying game theory in spare time.)