Topic: [Level] The new game: a new quest to play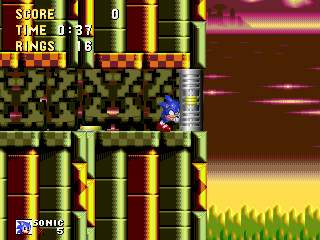 THIS IS NOT A MOD! is a set of levels

THIS QUEST IS OUT! ONLY WORKS IN 0.1.4 version of OpenSonic
Some months ago I was beginning to do a simple level based on blue ocean, and it converted to a bigger project, that I have called 'The new game'.
Now, the project is in beta, but it can be played very well. The quest is integrated by 7 levels:
* the new zone. Act 1
* the new zone. Act 2
* the new zone. Act 3
* hill top. An unique act
* sonix. Act 1
* sonix. Act 2
* hedgehog land
the first level is some deep, I mean, it has miles of caves and galleries. It can be edited. The second level is quick and easy. It hasn't a lot of enemies or traps, almost it's only jump n' run. The third level is the boss. It is a few longer than the blue ocean boss. It have a little surprise, if you see it. The fourth level, hill top, is the easiest of all. By the way, I like it. The next level on the quest is sonix. It is longer than the lasts 3 levels. The music shows the mistery environment of the level, like the background. The sixth in the list is sonix act 2. It's shorter than the act 1 and lonely. The last level is hedgehog land, the 2nd boss.
Download. You can download it from my google docs account for free.
Click in the virtual File Menu of Google Docs and then click Download
Link: https://docs.google.com/leaf?id=0ByqzYa … amp;num=50
Good luck and enjoy!
Last edited by CharlyTx (2012-06-05 13:45:19)