Topic: Original Graphics: Some Brick's & Opti-Eggman
Sorry for the withe background but is easy to change..


These style is some different to Knuckles Chaotix but is my first little pack of bricks (only the floor and other things) but looks great in a dark background.
And an opti-eggman: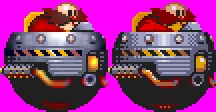 Realy looks good on "improve graphics" mode.
Thanks for visit my post!
Last edited by lainz (2009-03-11 02:49:47)